Local 8782 was first chartered in 1979. With more then 1100 brothers and sisters working in the steel industry in Nanticoke Ontario we are proud Canadian steelworkers and we collective bargain for Stelco LEW, Stelco Pickling Division, Harsco and ESM.

Sept.25/20
Attention Pickle Lines
PKL employees laid off beginning Sept. 27th will have their ROE processed after pay 21 is finished processing, approximately Oct. 8th.
If you need assistance applying for EI don't hesitate to contact the union hall for assistance.
At this time it is anticipated that PKL will have steel from LEW to process by Oct. 17th.
Sept.16/20
Starting Sept.20/20 there will be a C.O.L.A. increase of 3 cents on regular hours worked.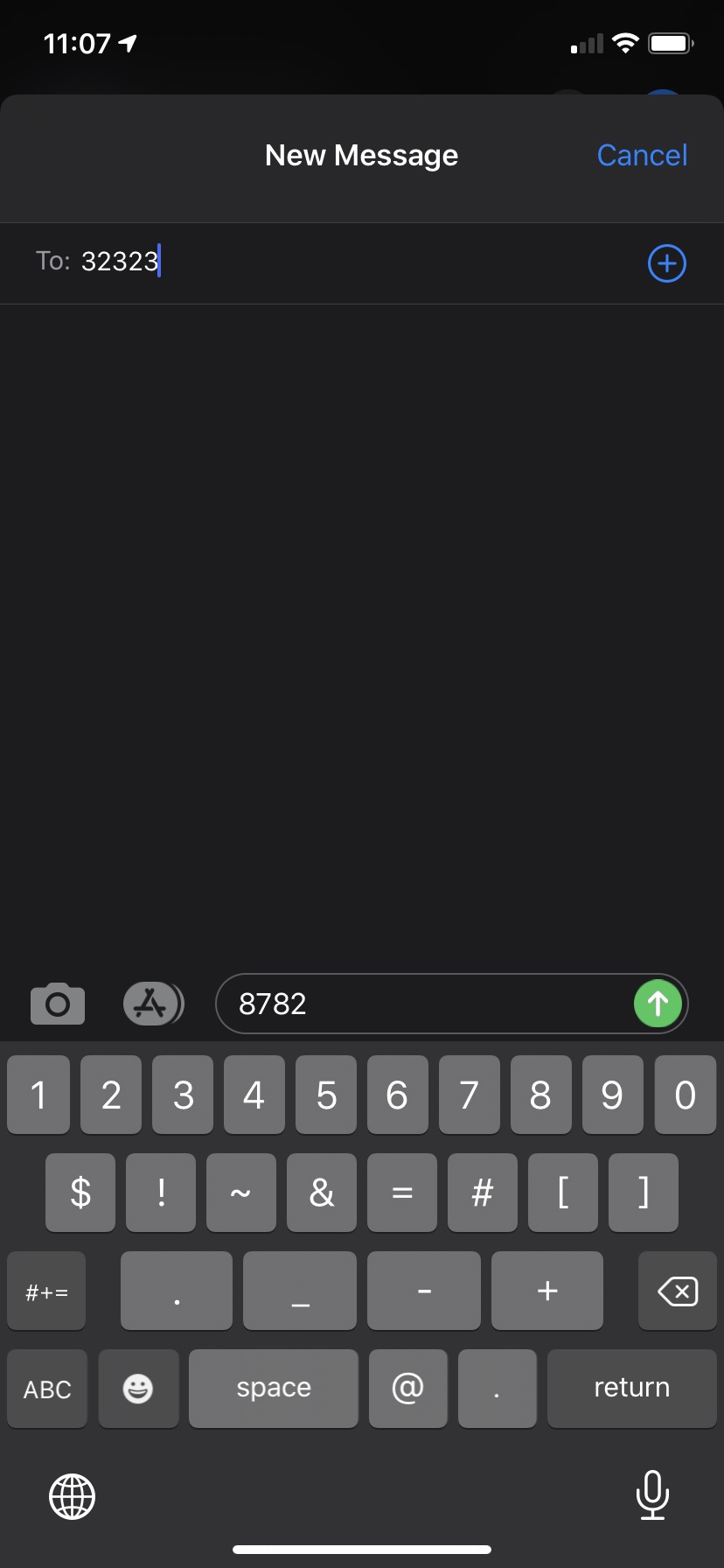 Mass Texting
If you haven't already signed up for the Mass Texting, please take the time and sign up .
This is the best platform for keeping up to date with
information.
Text 8782 to 32323 and follow the prompts.
This is for members only!
We ask that you answer all the questions as we need this information to identify our members.
Incomplete information will not be accepted.
Apr.01/20

ATTENTION
If you have been off for vacation for a week or longer you need to be cleared by Medical prior to returning. If you are experiencing cold or flu like symptoms or been in close contact with someone who has tested positive for Covid 19 you need to contact Medical or Plant Protection (after medical hours) prior to showing up for your shifts. They will do a verbal assessment and direct you on the appropriate actions for you to take.

Contact 519-587-4541 - Medical ext-5284/ Plant Protection ext-5060.
Committee Members Needed!
The Ways and Means Committee is looking for volunteer to sit on its committee.

For information about the committee or, anyone interested in becoming a member please contact Terry Barnard @ 519-587-2000 ext. 225
Operation Backpack 2020
Today, United Steel Worker Local 8782 President, Randy Graham, presented the Salvation Army with close to 300, pre-packed, Back Packs for distribution to those families in need within the Haldimand/Norfolk area. This was a three fold increase from last years efforts. We would like to thank Stelco for their generous donation to help with the cost of the back packs. We would also like to thank all the members of Local 8782 who helped sell tickets and those who purchased tickets to raise the funds required. Pictured is Randy Graham, President, Donna Wingrove, Financial Secretary, Terri Simmons, Salvation Army and Kattie Chroncharsky, Salvation Army.
On December 9/19, Our local President Randy Graham, on behalf of Local 8782 and the Steelworkers National Office, presented a $1750.00 cheque to Al Martens of the Simcoe Caring Cupboard. This money comes from the Steelworker Humanity fund. This year the Steelworkers distributed $229,750.00 to 112 food banks across Canada. Over $19,000.00 was given to local food banks in our surrounding area.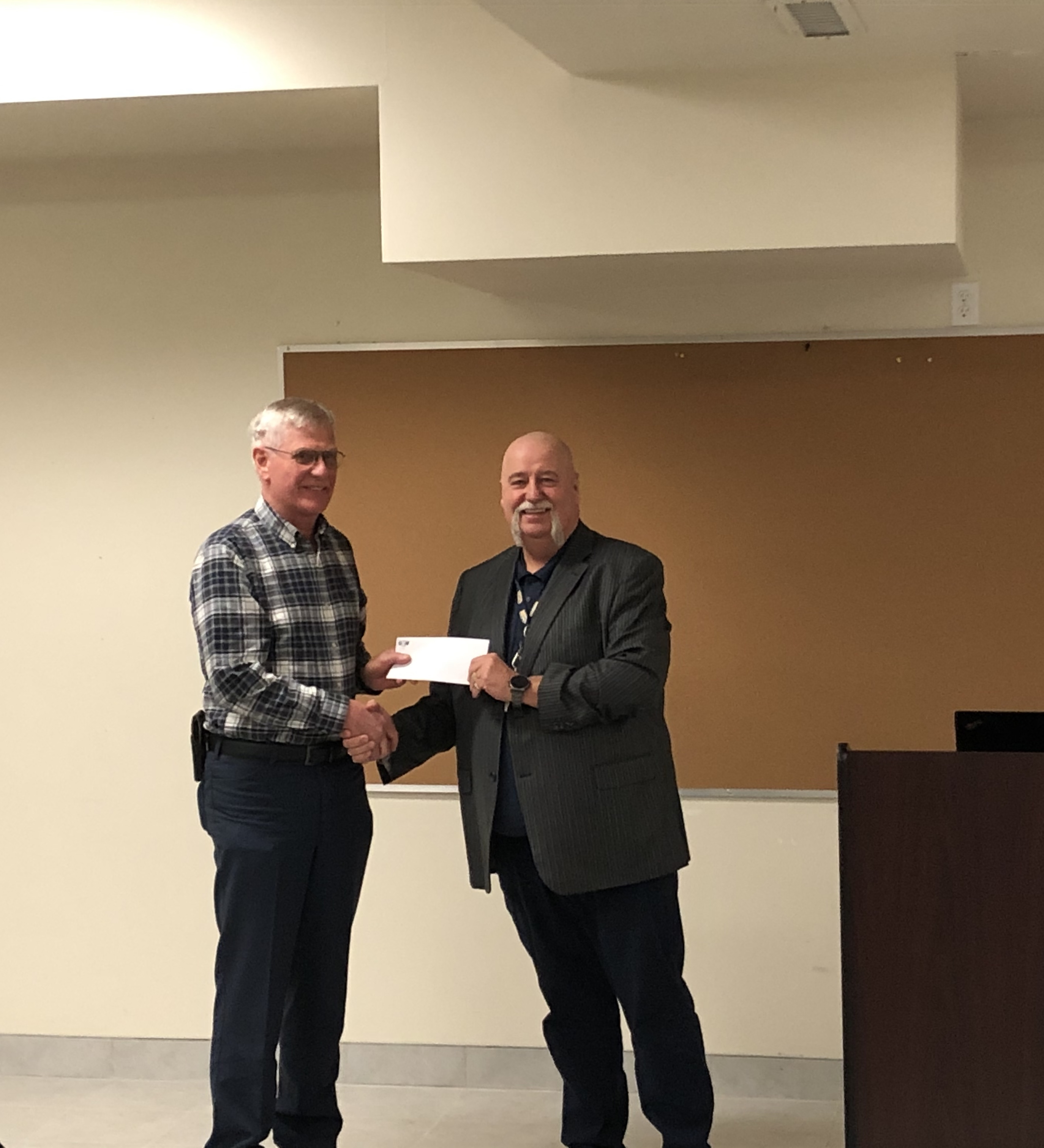 On Saturday December 7/2019 a few of the locals and some family members got together to help serve the Salvation Army's annual Christmas Dinner. The Salvation Army cooks up a full turkey dinner for some members of the community who may not otherwise have the opportunity.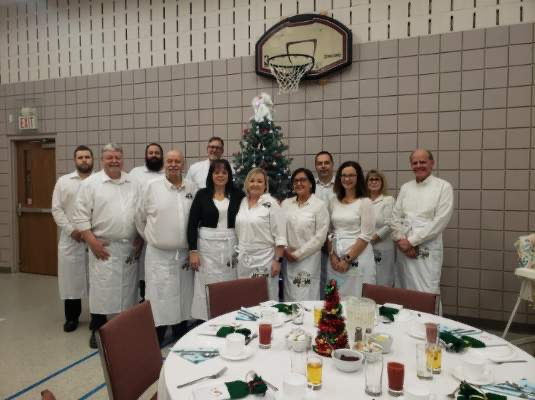 On Monday Nov.25/19 USW local 8782 and Stelco management delivered the proceeds from our annual Christmas gate collection. USW local 8782 President Randy Graham and Stelco's Vice President of Operations Dave Rivard Handed over $17150.00 in cash and 860 lbs in food and toys to Simcoe Salvation Army's Terri Simmons. USW local 8782 would like to thank all who participated in donating and helping in the gate collection. We would also like to thank the Salvation Army for distributing our donations to help the less fortunate during the holiday season.