Local 8782 was first chartered in 1979. With more then 1100 brothers and sisters working in the steel industry in Nanticoke Ontario we are proud Canadian steelworkers and we collective bargain for Stelco LEW, Stelco Pickling Division, Harsco and ESM.

Sept.06/19
Local 8782 attended USW local 2020 Rally in Kitchener at Care Partners HQ.
On Friday May 31st 2019 approximately 30 home care coordinators and administrative staff in Sudbury, Ontario were locked out by their employer. The Care Partners members have been on the picket line since June 3rd and have been waiting to get back to the table. Local 8782 donated $1000 in support on those members.

Sept.03/19
The Women of Steel are taking part in the Run for the Cure again this year. Please help us by Joining our team or Donating to the Memories of our Family, Friends and Coworkers that have lost the battle with this disease and to Celebrate the ones that Won the Fight.
Thanks in advance and In Solidarity
Women of Steel Local 8782
Team link
Aug.29/19
Local 8782 delivered 100 backpacks to the Salvation Army in Simcoe for distribution to area school children in need of school supplies.
Aug.28/19
Representatives of local 8782 went to Hamilton to partner with the Hamilton Steelworkers Area Council members and local businesses to pack 1500 backpacks for school aged children that were in need.
The approximate PSP payout for active members is $1155 and the retirees is $369.
Tiger-Cats Group Outing
1005 has asked if we would like to join them in a group outing to enjoy a TiCats game. All welcome, bring the kids/grandkids.
The game is on Oct.19/19 at 4pm
$15.00 per ticket
For more information contact Mark Lombardo
Cell : 519-420-8543
Email : recordingsecretary@uswa8782.com
We have had a lot of questions regarding changes to the E.S.A. with Bill-47. I've attached an article that explains the changes. Click the link below for a PDF version of the article. If you would like a copy of Chapter 14 - Bill 47 you can download it here Bill-47.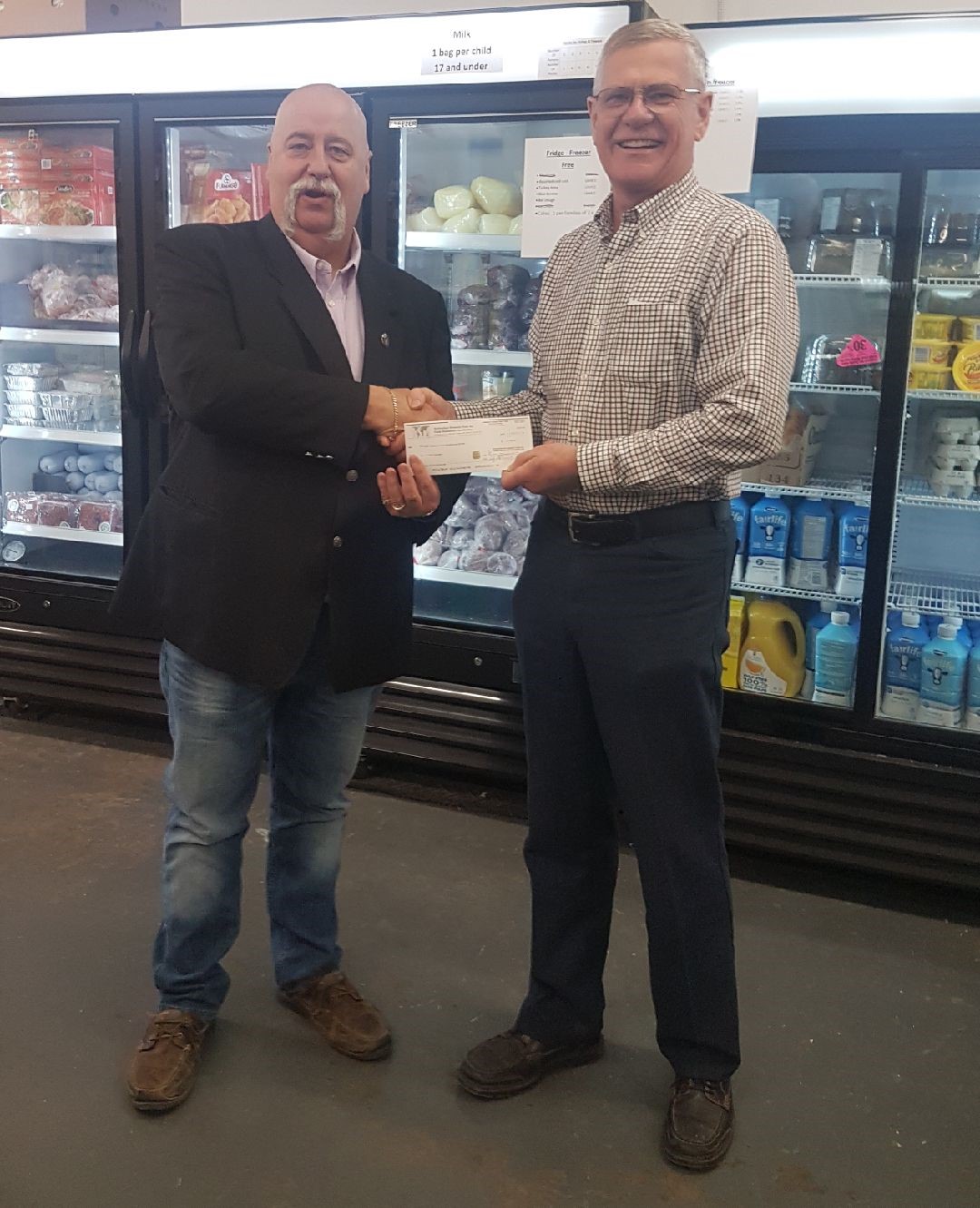 On Wednesday Dec.19/18, Randy Graham on behalf of USW Local 8782 and the United Steelworkers Humanity Fund, presented Al Martens, Administrator of Simcoe Caring Cupboard a cheque for $1700.00. The USW Humanity Fund contributed $188,800.00 to 112 Food Banks across Canada during the 2018 Holiday Season, $14,950.00 of which was distributed in Southern Ontario including this donation.
On Saturday Dec.08/18 some of the executive and their family helped the Salvation Army with their annual Christmas dinner. The Local members served a turkey supper that was prepared by the Salvation Army for some less fortunate members of our community.
From left to right, Terry and Lesa Barnard, Mark Lombardo and his Mother Donna, Randy Graham, Donna Wingrove, Rob and Paula Bussey and Fred Sebring.

On Friday Nov.23/18, the United Steelworkers Local 8782 along with Stelco, were pleased to present to the Salvation Army in Simcoe, a donation of money, food and toys from our annual Christmas gate collection. Our members along with Salaried personnel stood in the frigid temperatures to collect $12,000.00 in cash and 1188lbs in food and toys for those in need! The company pitched in an additional $5,000.00 to bring our cash total to $17,000.00. We are proud of all workers at Stelco Steel for their generosity in making Christmas just that much better for some less fortunate. USW Local8782 would like to thank you all!
2018 S.O.A.R. Children's Christmas Party
Today, United Steelworkers Local 8782 recognized Stelco Coke Ovens Supervisor and former Steelworker, Steve Hammond with a " Life Saving Award " for his efforts in the preservation of a life of one of our members, Jonathan Goetz.
Pictured above; Local President Randy Graham, C.O. Supervisor Steve Hammond, Jonathan Goetz and his partner Sadie and Employee Welfare Coordinator Terry Barnard.
Stewards in Action Level II - Oct. 2018